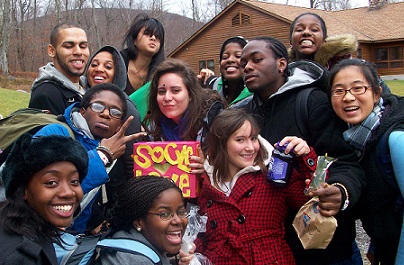 Students of Color @ Columbia provides students with cultural student group advising, events, education, advocacy, and other services and resources to help all students explore and better understand racial and ethnic identities, histories, experiences, and communities at Columbia and beyond. Additionally, as part of Multicultural Affairs, we hope to create a campus environment that is inclusive and supportive of student diversity in the area of race and ethnicity.
Upcoming Programs and Events
Live where justice dwells! Apply to live in the Intercultural House (ICH). The Intercultural Resource Center/Intercultural House (IRC/ICH) offers an opportunity for sophomores through seniors from a variety of backgrounds, interests, orientations and belief systems to engage, practice, and live their activism.

Applicatant Information:

Applicants must be enrolled in no less than twelve points at Barnard College, Columbia College or The Fu Foundation School of Engineering and Applied Science.  

Applicants must be sophomores, juniors, or seniors during their year of residence and in good academic standing and disciplinary status.  

Applicants are expected to participate in a full academic semester.

Priority application deadline is Friday, December 15, 2017, at 11:59 p.m, after this date applications will continue to be accepted on a rolling basis.

Complete your application here.
For more information, please email Multicultural Affairs at multicultural@columbia.edu and subscribe to our Students of Color @ Columbia email announcements list.