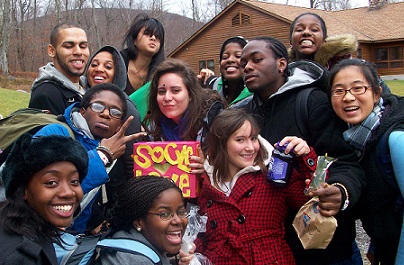 Students of Color @ Columbia provides students with cultural student group advising, events, education, advocacy, and other services and resources to help all students explore and better understand racial and ethnic identities, histories, experiences, and communities at Columbia and beyond. Additionally, as part of Multicultural Affairs, we hope to create a campus environment that is inclusive and supportive of student diversity in the area of race and ethnicity.
Programs and Events
Columbia Mentoring Initiative (CMI): In addition to program-wide events and activities for all participants, students have the opportunity to get involved in various "family trees," including Arab & Middle Eastern Family Tree, Asian Family Tree, Black Family Tree, Indigenous Family Tree, Latinx Family Tree, and Mixed Heritage Family Tree.
Graduation Programs, including Asian Graduation, Black Graduation, Native Graduation, and Raza Graduation
Constiuency Meetings
Welcome Week
Outings
Study Breaks
Advocacy: Student of Color Advisory Board and SOC Resource Team
The Student of Color Advisory Board (SOCAB) is part of the Multicultural Affairs Advisory Council (MAAC) under Multicultural Affairs. These undergraduate students in Columbia College and Columbia Engineering work towards a more respectful, accountable, and socially just campus environment by identifying campus issues and work closely and collaboratively with Multicultural Affairs and other campus partners in developing realistic and action-oriented solutions.
Like each MAAC student advisory board, SOCAB works with a corresponding administrative resource team spearheaded by Multicultural Affairs.  Informed by the work of SOCAB, the SOC Resource Team is a cross-functional work-team responsible for identifying unique and/or specific issues facing students of color. Each individual member of the team serves as a liaison, contributes to the conversation, and shares pertinent information back to their respective office. Each team supports the development, planning and implementation of initiatives aimed at assisting their respective population of students in Columbia College and Columbia Engineering. SOC Team membership consists of staff from Multicultural Affairs, Center for Student Advising, Counseling and Psychological Services, Undergraduate Admissions, Global Programs an Fellowships, Center for Career Education, Alumni Affairs, Alice! Health Promotion, and Sexual Violence Response. 
Organizational Advisement
Campus Resources
Campus-wide
Columbia College and Columbia Engineering
Casa Latin@
Manhattan House (Native and indigenous community)
Pan-African House
For more information, please email Multicultural Affairs at multicultural@columbia.edu and subscribe to our Students of Color @ Columbia email announcements list.