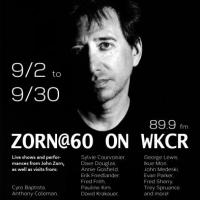 This September, WKCR's New Music Department explores the music and community of John Zorn. The festival begins with a 24-hour birthday broadcast all day Monday, September 2nd. The celebration continues on all Afternoon New Music and Transfigured Night programs, in addition to various Classical, Jazz, and In All Languages programs throughout the month, culminating on the 30th. Be sure to check back here on the website for a more detailed schedule to come.
In addition to shows guest-programmed by Zorn himself, the festival will include rarities from Zorn's collection and WKCR's archives, in-depth programs highlighting Zorn's ongoing musical projects (including Naked City, Masada, Game Pieces, Filmworks, and more), and interviews and live performances with Cyro Baptista, Anthony Coleman, Sylvie Courvoisier, Dave Douglas, Annie Gosfield, Erik Friedlander, Fred Frith, Pauline Kim, David Krakauer, Ikue Mori, George Lewis, John Medeski, Evan Parker, Fred Sherry, Trey Spruance, and many more. See below for a schedule of the artists' appearances at the station:
Dave Douglas and John Zorn - Sep. 2: 12-3 PM (Zorn on last hour from 2-3 PM)
John Zorn - Sep. 2: 3-6 PM
Pauline Kim - Sep. 4: 3-6 PM
Anthony Coleman - Sep. 6: 6-9 PM
Fred Frith and John Zorn - Sep. 8th: 10-11 PM
John Zorn - Sep. 9: 3-6 PM (interview with Ben Young and Phil Schaap)
Ikue Mori - Sep. 10: 12-2 PM
Erik Friedlander - Sep. 11: 3-4 PM
Cyro Baptista - Sep 12: 12-3 PM
Sylvie Courvoisier - Sep. 13: 6-9 PM
Evan Parker - Sep. 16: 3-6 PM
Trey Spruance and John Zorn - Sep. 17: 3-6 PM
John Zorn - Sep. 18: 3-6 PM (programming from his personal collection)
Fred Sherry - Sep. 19: 3-6 PM
David Krakauer - Sep. 22: 11 PM - 1 AM
George Lewis and John Zorn - Sep. 24: 3-5 PM
Annie Gosfield - Sep. 25: 3-6 PM
John Medeski - Sep. 27: 12-3 PM (Updated)
John Zorn - Sep. 30: 3-6 PM
Ever since making some of his first recordings at the WKCR studios in the late 1970s, John Zorn has been a prolific and unpredictable presence on the New York City experimental music scene. He has played on hundreds of recordings, founded his own record label, Tzadik, started a vital music performance space, The Stone, and cultivated a tight and generous group of collaborators. A composer, performer, arranger, producer, improvisor, impresario, and MacArthur Fellow, Zorn has explored a vast and impressive spectrum of genres — including jazz, rock, hardcore punk, classical, klezmer, popular, and improvised, among many others — over the past four decades.