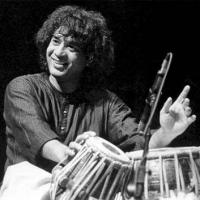 Sunday, November 23, 2014 - 11:00pm

to

Monday, November 24, 2014 - 2:00am
Tune in to In All Languages this Sunday at 11pm as we will focus on the career of Zakir Hussain. Born in 1951 to Ustad Alla Rakha, a legendary Tabla player himself, Zakir Hussain studied prodigiously and began touring at the age of 11. Now known as one of the greatest Tabla players in the world, he has taught music at Princeton University and Stanford, and has collaborated with some of the greatest musicians of all time. During this show, we will explore several parts of his career, from his earliest recordings with Pandit Shiv Kumar Sharma to his original compositions.