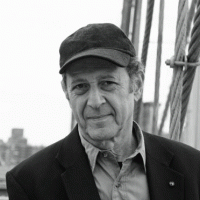 Tune in to Afternoon New Music on May 13th to hear an exclusive interview with the legendary composer Steve Reich. Reich was able to join us over the phone to talk about his upcoming concert at Miller Theater on May 15th. As part of Miller Theater's "Bach, Revisited" series, an esemble conducted by Brad Lubman will perform Bach's Christ lag in Todes Banden, BWV 4 and Reich's Tehillim. We will broadcast the interview and explore the work of Steve Reich.
​Steve Reich has been called "America's greatest living composer" (The Village Voice), "...the most original musical thinker of our time" (The New Yorker), and "...among the great composers of the century" (The New York Times). His music has been influential to composers and mainstream musicians all over the world. He is a leading pioneer of minimalism, having in his youth broken away from the "establishment" that was serialism. His music is known for steady pulse, repetition, and a fascination with canons; it combines rigorous structures with propulsive rhythms and seductive instrumental color. It also embraces harmonies of non-Western and American vernacular music (especially jazz). His studies have included the gamelan, African drumming (at the University of Ghana), and traditional forms of chanting the Hebrew scriptures.
Different Trains and Music for 18 Musicians have each earned him Grammy awards, and his "documentary video opera" works—The Cave andThree Tales, done in collaboration with video artist Beryl Korot—have pushed the boundaries of the operatic medium. Over the years his music has significantly grown both in expanded harmonies and instrumentation, resulting in a Pulitzer Prize for his 2007 composition, Double Sextet.
Reich's music has been performed by major orchestras and ensembles around the world, including the New York and Los Angeles philharmonics; London, San Francisco, Boston, and BBC symphony orchestras; London Sinfonietta; Kronos Quartet; Ensemble Modern; Ensemble Intercontemporain; Bang on a Can All-Stars; and eighth blackbird. Several noted choreographers have created dances to his music, such as Anne Teresa de Keersmaeker, Jirí Kylían, Jerome Robbins, Wayne McGregor, and Christopher Wheeldon.