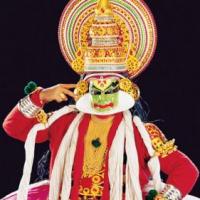 Sunday, November 16, 2014 - 11:00pm

to

Monday, November 17, 2014 - 2:00am
This Sunday at 11pm on our In All Languages show, we shall explore the different musical landscapes of South India. We will start with the Kathakali, a form of popular opera characterized by its use of gigantic masks, in which we shall hear a full performance of the epic Ramayana. Then we will move on to Carnatic devotional vocal music, followed by Carnatic instrumental music, in particular the veena (a plucked string instrument) and the mridangam (a long drum). We will end with an excerpt of a temple ceremony recorded in the Minakshi temple in the city of Madurai, Tamil Nadu.