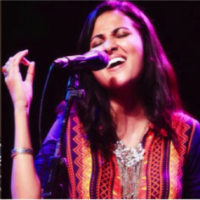 Sunday, October 18, 2015 - 11:00pm

to

Monday, October 19, 2015 - 2:00am
Tune in tonight to " In All Languages," as we broadcast a live interview with Manisha Brahmachary and exciting array of fusion music from two very talented artists, Shankar Tucker and Vidya Iyer.
Shankar Tucker, came into prominence as a composer when he released ShrutiBox, an ongoing series of internet music videos composed, recorded, performed, and directed by him. The videos have created great excitement over the past year, garnering over 12 million views and a combined 100,000 fans. Shankar's musical foundation is based on the clarinet. As a composer he blends classical Indian music, jazz and popular music to create a unique and original fusion sound. He has performed in many venues abroad and at home including the white house.
Vidya Iyer, is a young vocalist trained in Carnatic music. She has collaborated with Shankar Tucker in many of his recordings and performances. Now she has released many of her own mash up tracks on YouTube, that has garnered her a fan base all over the world.
Credits: http://www.shankartucker.com/ (@ShankarTucker) and https://www.facebook.com/VidyaVandana (@VidyaVox)