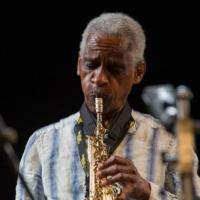 Monday, May 9, 2016 -

3:00pm

to

3:25pm
Tune in for an interview featuring Roscoe Mitchell, Lucie Vítková, George Lewis and Alvin Singleton in anticipation of two S.E.M. Ensemble concerts that will mine the legacy of John Cage and Karlheinz Stockhausen, happening on May 9th at the Bohemian National Hall, NYC and May 11th at Roulette. The ensemble, conducted by Petr Kotik, will play world premiere's of compositions from Roscoe Mitchell, Petr Kotik and Lucie Vítková on Monday and will conclude the the "Darmstadt Institute New York 70th Anniversary" series on May 11. Hear these amazing musicians talk about their compositions, working with Petr Kotik and the S.E.M. ensemble and the Darmstadt Institute and other projects.

Hailed by The New York Times as "the best of what is left of the experimental tradition," S.E.M. Ensemble was founded in 1970 when Petr Kotik gathered a group of musicians from the fellows at the Center of the Creative and Performing Arts, SUNY/Buffalo. Since then, S.E.M. Ensemble has established itself as one of the most distinguished ensembles for new music in the U.S., maintaining a continuous schedule of concerts in New York, touring annually in Europe, and also performing in South America and Japan.