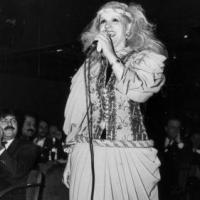 Friday, December 5, 2014 -

12:00am

to

1:00am
Tune in to Middle-Eastern Influences tonight at 12am as we will continue our series focused on the singer and actress Sabah in order to commemorate the life and work of the lebanese artist and singer Sabah who passed away earlier this week at the age 87 years old.
This second part of the memorial broadcast, will focus on the theme of "Sabah sings Lebanon" looking at specific songs in which she evokes her country Lebanon. Indeed, the theme of the homeland is a recurrent one in popular Arab music and we will see how Sabah appropriated it in her music.
Sabah was born in 1927 and soon aquired a major role in the movie and music scene of the Arab World. Known as the "Diva" she recorded more than 3,500 songs and was one of the first female singers to perform outside of the Arab World, in Paris or New York.
In rememberance of this icon of Arab music, Middle-Eastern influences will be playing her music during the last few shows of the year, tune in!