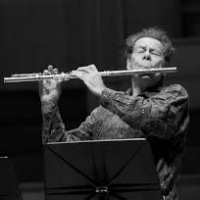 Monday, March 20, 2017 -

3:00pm

to

4:00pm
Tune into Afternoon New Music on Monday, March 20, at 3:00 pm EST for an interview with New York-based flutist and composer Robert Dick, in anticipation of his upcoming residency at The Stone from 3/21-3/26. Each night's show will feature improvisations with and without compositional backdrop and with one or more guest artists, including baritone Thomas Buckner, Miya Masaoka and Ken Filiano on koto and bass, drummer Tiffany Chang, a quartet with violist Stephanie Griffin, drummer Satoshi Takeishi, and Ned Rothenberg on alto sax, bass clarinet and shakuhachi, and lastly spoken word artist Vince Bell, guitarist David Mansfield and bassist Ratzo B. Harris. The final night of the residency will feature a contrabass flute solo celebrating the release of Dick's solo album Our Cells Know on John Zorn's Tzadik music label.

Beginning his composing and improvisations in the 1970s, Robert Dick has been an important figure in the development of the musical horizons of flute sound and technique. Dick authored The Other Flute: A Performance Manual of Contemporary Techniques, which reflects his efforts to expand the sonic vocabulary of the flute as a multiphonic and percussive instrument, beyond the traditional western role of the flute in both classical and jazz music, combining influences ranging from Jimi Hendrix and other 70s rock and roll bands to all manner of alternate cultural settings of flute playing from around the globe. His synthesis of these sounds and musical ambitions, at times even requiring his invention of modified mouthpieces, has established his role as a vital innovator on the instrument and within new and improvisational music in general.