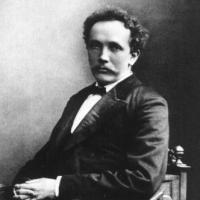 WKCR announces the Richard Strauss 150th Birthday Broadcast. Starting at 9:30am on Wednesday, June 11, and continuing until 6:00pm on Thursday, June 12, WKCR (89.9FM and wkcr.org) will dedicate all broadcasting to the works of Richard Strauss.
Richard Strauss remains a towering figure of the late Romantic and early modern periods. With a prolific career lasting for eight decades, his works span the entire spectrum of musical ensembles. Strauss produced over a dozen acclaimed operas in his lifetime—testaments to his enormous influence on the German operatic heritage crafted by Richard Wagner. He is also noted for his large body of lieder and for his treatment of the tone poem, in which harmonic subtleties coexist with a demand for technical virtuosity that still challenges today's finest orchestras.
The WKCR Strauss 150th will present a range of Strauss' full-length operas, orchestral works, and lieder. The broadcast will also feature several special segments, including interviews with sopranos Christine Goerke and Adrianne Pieczonka, as well as an interview with Christa Ludwig, originally aired in January of 2014.
A rough schedule of major works is as follows:
Wednesday, June 11th
9:30am -- Ein Heldenleben
10:15am -- Salome
12:00pm -- Daphne
5:15pm -- Guntram
7:15pm -- Christine Goerke interview
7:35pm -- Ariadne
10:00pm -- die Liebe der Danae
Thursday, June 12th
1:00am -- Rosenkavalier
5:00am -- Intermezzo
8:15am -- Christa Ludwig interview
9:00am -- Agyptische Helena
12:00pm -- Elektra
2:00pm -- Adrianne Pieczonka interview
3:00pm -- Capriccio