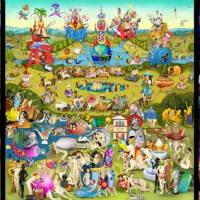 Thursday, April 13, 2017 -

9:30pm

to

10:00pm
Tune in to Arts and Answers, Thursday, April 13 from 9:30-10:00 PM EST for an interview by and with students of Columbia's Art History Modern Critical and Curatorial Studies (MODA) Program. Their upcoming exhibition, Invisible Cities, is opening next Tuesday, April 18, at the Miriam and Ira D. Wallach Art Gallery at Columbia University. Interviewed are the curators Page Benkowski, Taylor Fisch and Georgia Horn.
Invisible Cities is an exhibition divided into three parts—organized into three "cities." The show borrows its title from the eponymous 1972 novel by Italo Calvino. Calvino's novel is less a story, an imaginative travelogue, than an investigation into the human condition. Like Calvino's text, the exhibition Invisible Cities touches on disparate themes and differing infrastructures, mediated systems, the parafictional, and the digital baroque, to describe the multiplicities of contemporary subjectivity. The show takes viewers on a journey through a trio of complementary media–the photographic, the filmic, and the digital—as it examines the complicated relationship between representation and mediation.
For more information on the exhibition, you can visit http://www.columbia.edu/cu/wallach/exhibitions/InvisibleCities.html