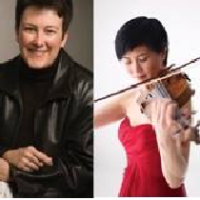 Tune in to Cereal Music this Monday, May 26th at 9:30am for two special interviews. First, at 9:40am, an interview with violinist Jennifer Koh, and then at 10:30am, an exclusive interview with composer Jennifer Higdon. Also on air throughout the program will be works by Higdon, including a broadcast of Koh's recording of Higdon's The Singing Rooms.
Pulitzer-prize winner Jennifer Higdon is one of the most performed living American composers working today. Her list of commissioners range from the Cleveland Orchestra to the Philadelphia Orchestra; from eighth blackbird to the Tokyo String Quartet; and from The President's Own Marine Band to such artists as Hilary Hahn. She holds the Rock Chair in Composition at The Curtis Institute of Music in Philadelphia. For more information, go to www.jenniferhigdon.com
Violinist Jennifer Koh is recognized for her intense, commanding performances, delivered with dazzling virtuosity and technical assurance. She is dedicated to performing the violin repertoire of all eras from traditional to contemporary, believing that the past and present form a continuum. For more information, go to www.jenniferkoh.com.