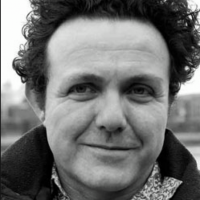 Tuesday, October 20, 2015 -

3:00pm

to

3:30pm
Tune in to Tuesday's Afternoon New Music for a discussion with Philip Miller on his latest collaboration with William Kentridge, the new opera Refuse The Hour. Miller and Kentridge have worked together for more than 20 years on projects ranging from the celebrated Soho Eckstein films, such Felix in Exile , to I am not me, the horse is not mine (2012) at the Tate Modern and the most recent installation, The Refusal of Time, presented at Documenta 13 and the Metropolitan Museum of Art.
In Refuse the Hour — a companion to the installation The Refusal of Time — Kentridge delivers an elliptical lecture-performance on the nature of temporality in front of giant on-stage metronomes, while Miller playfully explores the different ways in which time manifests in music — from re-imagining the singing of Berlioz's Le Spectre de la Rose in reverse, to colliding out-of-sync metronomes with frenetic African drumming.