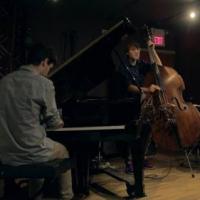 For this week's edition of the Musician's Show, WKCR DJ Graham Jacobson will host keyboardist Paul Bloom and bassist Connor Schultze on the air to listen to and discuss their work with the band iiii, as well as the band's musical influences.
iiii is an exciting and engaging young band made up of Laila Smith (vocals), Paul Bloom (piano), Connor Schultze (bass), and Jeremy Dutton (drums). The members mix their jazz training (Manhattan School of Music, Brubeck Institute, New School, and New England Conservatory) with pop, singer/songwriter, and R&B influences to forge a new and captivating sound. The band uses a collective songwriting process in which all of the members bring different ideas for the group to experiment with and shape into completed songs. By adding improvisation to these compositions, iiii creates performances that are all unique while still retaining a common thread. During shows, iiii plays a mixture of originals, songs by a range of artists from Joni Mitchell to Alicia Keys, and the occasional jazz standard.
In 2013, iiii recorded and released its self-titled debut album of original songs. The group also released an EP, Run iiii Cover, which includes versions of songs by Marvin Gaye, Jessie Ware, and Al Green. In addition to performing and recording, the group works together to share its love for music through education and has given many workshops, clinics, and presentations to students from kindergarten through high school.
Their musical influences include, but are not limited to: Christopher Nolan, Little Dragon, Johan Sebastian Bach, Cooper Vacheron, Michael Jackson, Michael Jordan, James Blake, Paul Simon, Jay-Z, Dr. Seuss, and Abraham Lincoln.