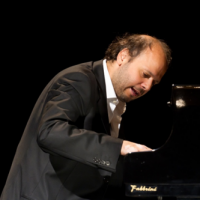 Wednesday, March 1, 2017 -

6:00pm

to

9:00pm
Tune in to the Musician's Show Wednesday, March 1 from 6:00-9:00 PM EST for an interview with pianist, composer, and producer Gustavo Casenave. Originally from Montevideo,
Uruguay, Casenave is an active performer in the jazz world and the contemporary classical scene. He moved to New York City in 1997, after graduating with honors from Berklee College of Music.
Casenave's discography includes eleven albums as a bandleader, and several appearances in other artists' projects in labels such as: Baltic Records, Zoho Records, Fula Records, Perro Andaluz, Kamikatze Records, Watchcraft Music and Green Parrot Records. In 1999, he won the International Award: "Belgian Artistic Promotion" at the Europe Jazz Contest 1999, and he is the composer for the Feature Film "La Cascara", that won numerous awards worldwide, at different film festivals, including: New York Film Festival, Bogota Film Festival and Leipzig Film Festival in 2007.
He has performed and recorded with several Grammy and Oscar award winners, and many internationally acclaimed artists such as: Yo-Yo Ma, Mark Egan, Jane Ira Bloom, Manolo Badrena, John Benitez, Federico Britos, Miguel Zenon, Avishai Cohen, Bette Midler, Neil Sedaca, Robert Duvall, Charlie Persip, Pedro Giraudo, Ray Vega, Hector del Curto, Roland Gebhardt, Ruth Brisbane and Curtis Lundy.
Casenave is both a Steinway Artist, and 2014 & 2012 Latin Grammy Award Nominee. Casenave has been touring extensible since 1994 through Europe, Asia , South, Central and North America, presenting his music with different Jazz, Tango, and chamber ensembles, performing at numerous venues worldwide, including the Blue Note (NYC) Walt Disney Concert Hall (LA), Harris Theatre (Chicago) NY City Center (New York), Symphony Space (New York), Chung Mu Art Hall (Korea), Europe Jazz Contest '99 (Belgium "Porgy & Bess" Jazz Club (Vienna/Austria),
Lincoln Center (New York City) and Kodak Theatre (LA).