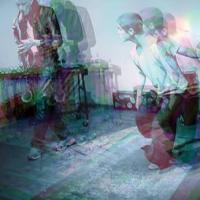 Monday, July 20, 2015 -

3:00pm

to

6:00pm
Tune in this Monday, July 20th, from 3-6PM to hear an in-studio performance by jazz legend Gunter Hampel and dancer/percussionist Danilo Cardoso. The duo came to WKCR last week to perform a series of improvisations that explore the possibilities between music and dance. They then talked to us about the history of the duo, and their plans to spread awareness and understanding of improvisation through their performances. Listen!
BIO
Hampel is one of jazz's most prolific and self-reliant musicians. In 1969, he formed Birth Records to release The 8th of July 1969, an album of his compositions performed by a group that included Anthony Braxton, Jeanne Lee, Steve McCall, Willem Breuker, and Arjen Gorter. Since then, Birth has released nearly 50 albums of Hampel's work in a variety of configurations; some of his performance and recording groups have been the Gunter Hampel Jazz Quintet, "Heartplants" Quintet, World Community Orchestra, Free Jazz Trio, and New York Orchestra.
Hampel began piano lessons at the age of four. By the time he was 16, he had added recorder, accordion, clarinet, saxophone, and vibes. His first exposure to jazz came at the end of World War II; American troops occupying his hometown of Gottingen listened to jazz on the Armed Forces Network and Willis Conover's Voice of America shows. The first jazz he heard was by Louis Armstrong; it affected him deeply. He grew up under the influence of European classical and folk music, as well as jazz. He formed his own jazz bands in his teens playing all styles of jazz, from early jazz to bebop. He also began composing his own tunes. After military service in the late '50s, Hampel studied architecture while continuing to play music on the side. By 1958, he had started playing jazz professionally. In 1964, he established the "Heartplants" Quintet, which included Alex von Schlippenbach and Manfred Schoof. The group recorded Heartplants (MPS/SABA), Hampel's first album, which received a five-star rating from Down Beat magazine. Hampel began playing festivals in Europe and elsewhere. He met vocalist Jeanne Lee in 1967 and began a long personal and musical partnership that lasted many years. In the '60s, he recorded for the Wergo and ESP labels and played with such American musicians as drummer Steve McCall and saxophonist Marion Brown.
With the formation of Birth, Hampel was able to document his music more completely; since the early '70s he's recorded an array of combinations, from duos to big bands. His various ensembles have included such famous musicians as Bill Frisell, Marvin "Smitty" Smith, and Albert Mangelsdorff, as well as such fine if unsung talents as Mark Whitecage, Perry Robertson, and David Eyges. In 1997, Hampel reconstituted his band with Schoof and von Schlippenbach for a gig at the Musik Triennale in Koln. The concert was recorded and the results were released on Birth under the title Legendary. Hampel continued going strong, touring and recording with musicians all over the world. As one might expect from so self-sufficient an artist, Hampel has embraced the Internet with a passion. His website is one of the most comprehensive devoted to a single musician. Hampel is also an accomplished painter.