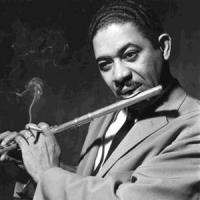 Join us as we commemorate the life and music of jazz saxophonist and
flutist Frank Wess, who passed away on Wednesday, 30th of October at
the age of 91. We will preemp all regular programming from 6:00pm on
Thursday, 31st of October to 9:00pm on Friday, 1st of November. A star soloist of Count Basie's
legendary "New Testament" band, Wess was a key factor in the success
of the orchestra in the 1950s and early 1960s.
Frank Wess was born January 22, 1922
in Kansas City, Missouri, also the birthplace of Basie's original
band. He was raised in Washington DC where he started playing jazz,
playing in big bands in the area by the age of 19. After serving in the
armed forces in World War II, he joined Billy Eckstine's orchestra
then returned to Washington to study music. He joined the Count Basie
Orchestra in 1953 with whom he played flute, tenor saxophone and later
alto saxophone, appearing on many of the band's most famous recordings
of the era. His pioneering work on the flute gained him many awards
and much recognition. After leaving Basie in 1964 Wess played with
Clark Terry, The New York Jazz Quartet and in various groups led by
himself and other prominent names in jazz. Frank Wess remained active
through to this century.
Tune in as we celebrate the music of this
historical and great figure in the jazz world.