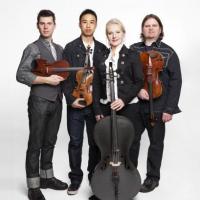 Sunday, March 15, 2015 -

10:00pm

to

11:00pm
Tune in to Live Constructions on Sunday, March 15th, from
10-11 pm
for an exclusive interview with members of the string quartet ETHEL. The show will feature an hour-long in-studio interview with Ralph Farris and Corin Lee from ETHEL and recordings from throughout their career.
ETHEL are performing with guitarist Kaki King and composer/guitarist/violinist John King at Merkin Concert Hall this
Saturday, March 21st at 7:30 pm
. They will be premiering new compositions and collaborating on old ones. Listen!
Acclaimed as "unfailingly vital" (The New York Times), "brilliant," "downtown's reigning string quartet" (The New Yorker), and "one of the most exciting quartets around" (Strad Magazine), ETHEL invigorates the contemporary music scene with exuberance, intensity, imaginative programming, and exceptional artistry. ETHEL performs adventurous music by celebrated contemporary composers such as Philip Glass, Julia Wolfe, Phil Kline, John King, Raz Mesinai, John Zorn, Steve Reich, Terry Riley, Kimo Williams and Mary Ellen Childs. Founded in 1998 and based in New York City, ETHEL is comprised of Ralph Farris (viola), Dorothy Lawson (cello), Kip Jones (violin), and Corin Lee (violin).