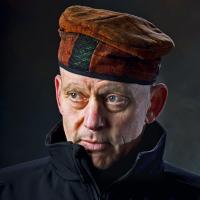 Tune in to Afternoon New Music as we talk to composer Eric Richards and cellist Alex Waterman about Harley Gaber and their upcoming appearance at the Tectonics Music Festival. The festival will occur from May 23 to May 25 at Issue Project Room, featuring three nights of experimental performances by composers Alvin Lucier, Harley Gaber, Eric Richards, and more. Hear Eric and Alex talk about their relationship with Harley Gaber, Eric's pieces, and the Tectonics Festival. Listen!
Harley Gaber (1943-2011) does "harrowing yet peaceful" like no one else. His richly sonorous spectral drones sweep the soul along on its darkest night towards a dawn forever just beyond reach. Originally from Chicago, Gaber studied with studied with Kenneth Gaburo and Darius Milhaud among others. Throughout the 1960s and 1970s he found his own unique compositional language that combined the intensity and extra-musical framing of certain post war, European Modernism with sparser, more obviously spiritual evocations of Eastern aesthetics as made manifest in such diverse expressions as Haiku poetry, Sumi-e painting, and even martial arts forms.
Be sure to check out harleygaber.com for his extensive online archive of music, film, writing, and more.
Eric Richards was born in New York City in 1935 and attended— and later taught at— the Mannes College of Music. Many of his pieces use unusual instruments or standard instruments played (or tuned) in idiosyncratic ways. His music has been performed in New York at the Kitchen, Lotus Music and Dance, the Cocteau Repertory Theatre— where he was musical advisor, and the Composers Forum. His music is recorded on New World Records (two of the pieces on these Tectonic Festival concerts), Turnabout Records (Gregg Smith Singers) and Koch International Classics (Jenny Lin). He has been a MacDowell Colony Fellow and the recipient of a Ford Foundation Recording Grant. He divides his time between New York City and Albuquerque, New Mexico; his printed music is available from Frog Peak Music.
Alex Waterman is a founding member of the Plus Minus Ensemble, based in Brussels and London, specializing in avant-garde and experimental music. In New York he performs with the Either/Or Ensemble. Alex has worked with musicians such as Robert Ashley, Richard Barrett, Helmut Lachenmann, Keith Rowe, Marina Rosenfeld, Anthony Coleman, Elliot Sharp, Ned Rothenberg, Gerry Hemingway, David Watson, Chris Mann, Alison Knowles, Thomas Meadowcroft, and Michael Finnissy. He has performed as guest musician with numerous ensembles, including Trio Event (Berlin), Champs d'Action-Antwerp, Q-O2-Brussels, and Magpie Music and Dance Company. Waterman has made music for numerous European ballet and modern dance companies including Freiburg Ballett/Pretty Ugly, Scapino Ballet, Nederland Dans Theater III, and others. In 2007 Alex curated two exhibitions in New York, one on experimental music and poetics: Agapê (June 2-July 28th, 2007) at Miguel Abreu Gallery; and the other on graphic notation, Between Thought and Sound: Graphic Notation in Contemporary Music(September 7-October 20, 2007) at The Kitchen in Chelsea.
About Tectonics (http://issueprojectroom.org/program/tectonics-festival-new-york)
The inaugural US iteration of Iceland's acclaimed Tectonics Festival comes to New York in four events at ISSUE Project Room May 23rd through May 25th. A co-presentation of Tectonics and ISSUE, Tectonics Festival New York presents a rich program of new composition, improvisation and unique cross-genre collaborations exploring iconic voices in experimental composition. Founded in Reykjavík in 2012 by Ilan Volkov, Music Director and Chief Conductor of the Icelandic Symphony Orchestra, Tectonics Festival takes the quest for a radical classical music as its starting point.
The series opens on Friday May 23rd at 7pm with a special presentation of Alvin Lucier's Criss Cross, featuring two pillars of experimental rock: Stephen O'Malley, a doom-metal legend of Sunn O)))) fame, and the celebrated guitarist, composer and multi-instrumentalist Oren Ambarchi. Originally premiered at Tectonics Glasgow in May 2013 and recently staged at Knoxville's Big Ears Festival, this is the duo's first NY appearance. Jessika Kenney, a composer and vocalist who draws on South East Asian and Persian vocal traditions— as well as participating in experimental and metal groups including Sunn 0)))— performs solo and also joins Hildur Guðnadóttir, O'Malley and Ambarchi in the World Premiere of Reverse Tree, a newly commissioned work for ensemble by Eyvind Kang. Kenney also performs two works by Italian avant-gardist Giacinto Scelsi, one in a duo with Kang on viola. An ensemble of O'Malley, Ambarchi, Eli Keszler & Alan Zimmerman perform South Pole by Iancu Dumitrescu, a pioneering Romanian composer still not known enough. Canadian sound artist Crys Cole performs solo, drawing subtle and imperfect sounds from simple, meditative gestures.
The second day of the festival turns attention to Harley Gaber, a complex American composer, filmmaker, artist, and tennis player. Saturday May 24th at 8pm, Gaber's monumental work The Winds Rise in the North is performed by a quintet including extraordinary string players Conrad Harris, Pauline Kim, Esther Noh, Alex Waterman and Erin Wight. A pillar of American minimalism, the near-100 minute work is scored in four sections with amplified instruments largely performed sul ponticello (on or near the bridge of the instruments), yielding rich harmonic combinations and overtones. Prior to this performance,Saturday May 24th at 6pm, a panel on the artist's life and works is moderated by composer Eric Richards, with guests Paul Paccione, Ned Sublette and Bill Hellerman.
Sunday May 25th at 7pm, a diverse program highlights works by Eric Richards, a little-known but tremendously influential American avant-garde composer who came of age in the pervasively interdisciplinary counterculture of the 1960s. Two of Richard's works are performed by percussionist Alan Zimmerman. Alvin Lucier returns for this final event of the festival, performing two works with pianistJenny Lin. Baritone Jeffrey Gavett, a premiere vocalist of contemporary music, performs works by Lucier, Scelsi and two experimentalists of a younger generation— Aaron Cassidy and Evan Johnson. The festival closes with a solo set by Hildur Ingveldardóttir Guðnadóttir, an acclaimed Icelandic cellist at the forefront of experimental rock, best known for her collaborations with múm and Pan Sonic. With cello, voice and software manipulation, Guðnadóttir draws a broad spectrum of sounds from her instrument, ranging from intimate simplicity to huge soundscapes.