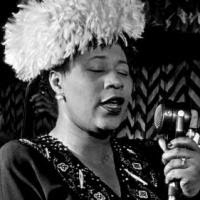 Wednesday, April 25, 2018 (All day)
Join WKCR Wednesday, April 25, 2018 for our 24-hour Ella Fitzgerald birthday broadcast. One of the most influential jazz vocalists of the last century, Fitzgerald won 13 Grammy awards and sold over 40 million albums.
In 1936, Fitzgerald made her first recording, "Love and Kisses," which was released under the Decca label, with moderate success. By this time she was performing with Chick's band at the prestigious Harlem's Savoy Ballroom, often referred to as "The World's Most Famous Ballroom."
Shortly afterward, Fitzgerald began singing a rendition of the song, "(If You Can't Sing It) You Have to Swing It." During this time, the era of big swing bands was shifting, and the focus was turning more toward bebop. Fitzgerald played with the new style, often using her voice to take on the role of another horn in the band. "You Have to Swing It" was one of the first times she began experimenting with scat singing, and her improvisation and vocalization thrilled fans. Throughout her career, Fitzgerald would master scat singing, turning it into a form of art.
In 1938, at the age of 21, Fitzgerald recorded a playful version of the nursery rhyme, "A-Tisket, A-Tasket." The album sold 1 million copies, hit number one, and stayed on the pop charts for 17 weeks, and this marks the beginning of her immense fame.
In her later years, Fitzgerald continued to work as hard as she had early on in her career, despite the ill effects on her health. She toured all over the world, sometimes performing two shows a day in cities hundreds of miles apart. In 1974, she spent a legendary two weeks performing in New York with Frank Sinatra and Count Basie. Still going strong five years later, she was inducted into DownBeat Magazine's Hall of Fame, and received Kennedy Center Honors for her continuing contributions to the arts. Join us in celebration of her work and life.