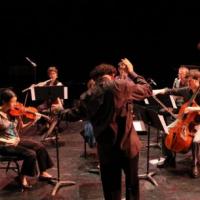 Tune in to Afternoon New Music this Wednesday at 3PM to hear an interview with composer Richard Carrick and percussionist David Shively about the upcoming Either/OR Spring Festival of Contemporary Music. This festival will take place on June 26, 27, and 29 in various locations, featuring pieces by Karlheinz Stockhausen, Mauricio Kagel, Morton Feldman, Alvin Lucier, and others. Our interview with Carrick and Shively will feature exclusive rehearsal recordings of Morton Feldman's piece For Phillip Guston. Listen!
Either/Or perform their ninth annual spring festival of contemporary music in late June including three nights of uncompromising and experimental new music. June 26 will feature E/O soloists Margaret Lancaster, Vasko Dukovski, Aaron Baird and co-director David Shively, in a theatrical melange of works by iconic composers Karlheinz Stockhausen, Mauricio Kagel, Jacob Druckman, Alvin Lucier, and others at the Whitebox Art Center. June 27th E/O returns to Whitebox for a CD release concert for co-director Richard Carrick's Stone Guitars (New Focus Recordings release in early July), multi-layered electric guitar music featuring special guests Gamin and others.
The festival culminates on June 29th with a special event for Either/Or's 10th Birthday: Morton Feldman's rarely heard 4 1/2 hour epic, For Philip Guston, at Brooklyn's Issue Project Room. E/O has championed Feldman's music for the past decade and his late trios for flute, piano, and percussion are among the works closest to the heart of the Either/Or repertoire. This will be a rare performance of one of the true masterworks of late 20th century experimentalism, balancing the sheer timbral beauty of this unique ensemble with virtuosic interplay and Feldman's inimitable sense of scale.
The ninth annual Either/Or Spring Festival is a co-production between Issue Project Room, Whitebox Art Center, and Either/Or. Full details can be found at www.eitherormusic.org, issueprojectroom.org, and www.whiteboxny.org.