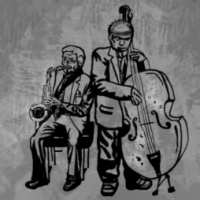 Sunday, October 9, 2016 -

6:00pm

to

8:00pm
In honor of its 75th anniversary, WKCR-FM presents a concert featuring two incredible performances by free jazz bassist Henry Grimes and the George Coleman quartet, including George Coleman on tenor sax, George Coleman, Jr. on drums, Rick Germanson on piano, and John Webber on bass. They will help celebrate WKCR's history of broadcasting alternative, eclectic, and significant content over its 75 years on FM.
The concert will begin at 6 p.m., with doors opening at 5:30. Tickets are available on the Miller Theatre website, millertheatre.com, at $15 for CUID holders and $45 for non-CUID holders. Please join us for an evening of extraordinary live music paying tribute to a mainstay in the New York music scene!

For more about how WKCR is celebrating its 75th anniversary, visitwww.wkcr75.com.
After a rigorous apprenticeship in his native Memphis, including a stint with B.B. King, living legend GEORGE COLEMAN rose to jazz prominence for his solid, soulful playing with the Miles Davis Quintet of 1963–64 and his memorable performances on the classic Miles albums Seven Steps to Heaven (1963), My Funny Valentine (1964) and Four & More (1966). As a leader, Coleman has released such bracing albums as Amsterdam After Dark (1979), At Yoshi's (1987), and most recently, the critically acclaimed A Master Speaks (2016). In addition, George Coleman Jr. has partnered with Pierre Romain, producer from Sterling Worldwide Entertainment, LLC to produce a documentary, Another Kind of Soul, about the Coleman Family.
As of the beginning of 2016, master jazz musician HENRY GRIMES (acoustic bass, violin, poetry, illustrations) has played more than 615 concerts in 31 countries (including many festivals) since 2003, when he made his return to the music world after 35 years away. Often working as a leader, he has played, toured, and recorded with many of this era's musical and literary heroes, including Bill Dixon, Andrew Lamb, Nathaniel Mackey, Roscoe Mitchell, David Murray, William Parker, Marc Ribot, Wadada Leo Smith, and Cecil Taylor. He is the subject of a new biography, Music to Silence to Music: A Biography of Henry Grimes by Dr. Barbara Frenz, with a beautiful foreword by Sonny Rollins. Henry Grimes is now a permanent resident of New York City and welcomes students here.
Over the past 75 years, WKCR has been dedicated to presenting a spectrum of alternative programming—traditional and art music, spoken arts, and original journalism. It is currently home to nine different music and talk departments: Jazz, Classical, New Music, American, Latin, In All Languages, Arts, News, and Sports. Granted its FCC license in 1941, WKCR is both steeped in tradition and committed to innovation. In the New York area, the station can be heard at 89.9 on the FM dial; worldwide, it streams online at wkcr.org.