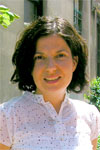 Megan Rigney
Associate Dean
Berick Center for Student Advising 403 Lerner Hall, MC 1201 2920 Broadway New York, NY 10027
Office Hours:
The Berick Center for Student Advising is open for appointments Monday-Friday, 9 a.m.-5 p.m. Academic Year Walk-in Hours (when classes are in session): Monday-Thursday, 3:00-4:30 p.m.
Specialty:
Director of Preprofessional Advising and Academic Resources in Support of Excellence
Megan, born and raised in suburban New Jersey, previously lived in Washington, D.C. and has been at Columbia since 2002. She holds a B.A. in communications from Miami University (Ohio) and an M.A. in higher education administration from NYU. The highlight of her college years was a semester abroad studying architecture in the city of Luxembourg. She enjoys traveling, hiking and discovering new restaurants and cafes in New York and beyond.