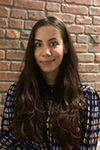 Maria Dimitropoulos
Advising Dean
Berick Center for Student Advising 403 Lerner Hall, MC 1201
2920 Broadway New York, NY 10027
Office Hours:
By appointment. Please email me if you have a conflict with my availability and need to schedule a meeting.
Specialty:
Columbia Undergraduate Scholars Program
Maria first came to Columbia in 2013, when she started her graduate studies. She recently earned her Ph.D. in the Classical Studies Program. Trained as a classicist and archaeologist, she has been participating in excavations since 2012 and her research has taken her to Greece, Italy, Egypt, Spain, Portugal, and France. Before joining the CSA, she served as a Graduate Student Mentor in the Columbia Undergraduate Scholars Program for two years, and she also taught a variety of classes in the Classics and Art History and Archaeology departments. Maria is both a first generation American and college graduate, and she is excited to connect with students with diverse backgrounds and experiences.