Jason Collado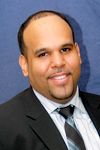 Assistant Dean
Berick Center for Student Advising
Academic Success Programs
403 Lerner Hall, MC 1201
2920 Broadway
New York, NY 10027
jc2783@columbia.edu
Phone: 212-854-7171
Fax Number: 212-854-2562
Office Hours:

The Berick Center for Student Advising is open for appointments Monday-Friday, 9 a.m.-5 p.m.

Academic Year Walk-in Hours (when classes are in session):
Monday-Thursday, 3:00-4:30 p.m.
Jason was born in New York City and raised in the Bronx. He holds a B.A. in psychology with a concentration in general education studies, an M.S. in counseling psychology and a C.A.S. in school counseling, all from SUNY Albany. Jason has worked in higher education for more than 19 years and has focused on opportunity programs and supporting under-resourced students. He loves sports, cooking, hiking, traveling and biking, and has also coached little league baseball, soccer, basketball and college softball. He is the proud father of two energetic boys.