Joshua Gaynor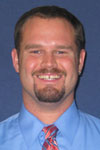 Advising Dean
Berick Center for Student Advising
403 Lerner Hall, MC 1201
2920 Broadway
New York, NY 10027
jwg2112@columbia.edu
Phone: 212-854-7307
Fax Number: 212-854-2562
Office Hours:

The Berick Center for Student Advising is open for appointments Monday-Friday, 9 a.m.-5 p.m.

Academic Year Walk-in Hours (when classes are in session):
Monday-Thursday, 3:00-4:30 p.m.
Josh was born and raised in Wethersfield, Conn., and lived and worked in San Diego and Berkeley, Calif. for four years before moving back to New York City in 2003. He and his family just recently moved to Connecticut for more space and a backyard. Josh holds a B.A. in communications and psychology from Marist College and an M.A. in higher education administration from New York University. In college and graduate school, Josh rowed on the men's crew team. He then coached for five years at the University of San Diego and NYU. Josh loves spending time with his wife, Emily, and his children, Milo and Luna. He also loves coffee, traveling, movies, garage saling, all Apple products and all Boston sports teams.