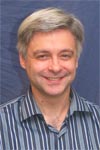 Andrew Plaa
Dean of Advising
Berick Center for Student Advising
403 Lerner Hall, MC 1201
2920 Broadway
New York, NY 10027
Office Hours:
The Berick Center for Student Advising is open for appointments Monday-Friday, 9 a.m.-5 p.m.
Academic Year Walk-in Hours (when classes are in session):
Monday-Thursday, 4:00pm-5:00p.m.
Andrew was born in New Orleans and raised in Montreal, Canada. He graduated from McGill University with an honors B.A. in history and received his Ph.D. in early modern history from Columbia University's Graduate School of Arts and Sciences. He spent 10 years teaching at Columbia, Barnard College, City College and NYU before joining the Berick Center for Student Advising in 2005. He has lived in New York since 1984, except for one year in London, England, but he's still not sure if he's a New Yorker.