Aileen Forbes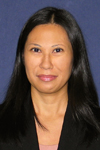 Advising Dean
403 Lerner Hall
2920 Broadway, Mail Code 1201
New York, NY 10027
agf4@columbia.edu
Phone: 212-851-5812
Fax Number: 212-854-2562
Office Hours:

Mon-Fri: 9:00 a.m.-5:00 p.m.
• Born in Manila, Philippines, and raised since age two in New York City and a New York suburb.
• B.A., French Literature with the premedical curriculum, Columbia College, Columbia University
• Ph.D., English Literature, Princeton University
• Published in scholarly journals, including the Keats-Shelley Journal, European Romantic Review, and the Bryn Mawr Review of Comparative Literature. "Return of the Cenci: Theaters of Trauma in Shelley and Artaud" forthcoming in the journal Comparative Literature.
• Taught courses on British Romanticism, Psychoanalytic Theory, and George Eliot at Princeton, Bryn Mawr, and Swarthmore. At Columbia, teaches English literature, Literature Humanities, and Contemporary Civilization.
• First job after college was at The Metropolitan Opera.
• Enjoys theater and opera, tennis, swimming, food, and making French pastry.