Alex Espana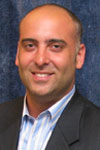 Associate Dean
403 Lerner Hall
2920 Broadway, Mail Code 1201
New York, NY 10027
aae2003@columbia.edu
Phone: 212-854-5235
Fax Number: 212-854-2562
Office Hours:

Mon-Thu: 3:00 p.m.-4:30 p.m.
Alex has over 20 years of counseling, advising, and college administration experience. Part of the Columbia community since 2001, Alex encourages students to explore and engage in the rich Columbia community and takes a holistic approach to mentoring and advising his students.
From creating four-year academic plans, reviewing course selection, and discussing majors and concentrations, to evaluating study abroad programs, internship opportunities and talking about life in general, Alex builds trust with his students by cultivating and advocating for their overall well-being. As the Associate Dean of Advising, Alex leads the Center for Student Advising's First-in-Family initiatives and oversees various scholar programs, including Academic Success Programs.
Alex España is a graduate of Southwestern Adventist and Andrews University, and also studied voice at the University of Illinois, having performed at Carnegie Hall and Lincoln Center. Alex spends most of his free time in West Harlem, with his wife Annette, a psychologist at Columbia University, and his daughter, Ana Isabella. Alex is a member of the Cuban Cultural Society of New York and enjoys discussing the music, history and politics of parent's country.