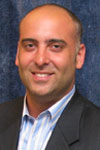 Alex España
Associate Dean
Berick Center for Student Advising
403 Lerner Hall, MC 1201
2920 Broadway
New York, NY 10027
Office Hours:
The Berick Center for Student Advising is open for appointments Monday-Friday, 9 a.m.-5 p.m.
Academic Year Walk-in Hours (when classes are in session):
Monday-Thursday, 3:00-4:30 p.m.
Alex, who has more than 20 years of counseling, advising and college administration experience, takes a holistic approach to mentoring and advising his students and encourages students to explore and engage in the rich Columbia community. Part of the Columbia community since 2001, Alex leads the Berick Center for Student Advising's First-in-Family initiatives and oversees various scholar programs, including Academic Success Programs. Alex is a graduate of Southwestern Adventist and Andrews University, and also studied voice at the University of Illinois, having performed at Carnegie Hall and Lincoln Center. Alex spends most of his free time in West Harlem, with his wife Annette, a psychologist at Columbia University, and his daughter, Ana Isabella. Alex is a member of the Cuban Cultural Society of New York and enjoys discussing the music, history and politics of his parents' country.