MaryMartha E. Ford-Dieng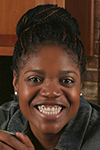 Program Coordinator/Adviser
Berick Center for Student Advising 403 Lerner Hall, MC 1201 2920 Broadway New York, NY 10027
mef2209@columbia.edu
Phone: 212-851-9120
Fax Number: 212-854-2562
Office Hours: The Berick Center for Student Advising is open for appointments Monday-Friday, 9 a.m.-5 p.m. Academic Year Walk-in Hours (when classes are in session): Monday-Thursday, 3:00-4:30 p.m.
Specialty: Preprofessional Advising
MaryMartha, born and raised in Pittsburgh (go Steelers!), holds a B.A. in theatre and communications from Temple University and an M.Ed. in higher education administration from Northeastern University. She enjoys theatre, music, trying new recipes and spending time with family and friends.