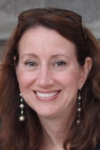 Kay Hershberger
Advising Dean
Berick Center for Student Advising
403 Lerner Hall, MC 1201
2920 Broadway
New York, NY 10027
Office Hours:
The Berick Center for Student Advising is open for appointments Monday-Friday, 9 a.m.-5 p.m.
Academic Year Walk-in Hours (when classes are in session):
Monday-Thursday, 3:00-4:30 p.m.
Kay was raised in Indiana and lived in Washington, D.C. before moving to New York City. She earned a B.A. in English from Goshen College and an M.S. in college administration from Indiana University. She has worked as an academic adviser for The George Washington University and Indiana University, and has lived in Italy and China. Her interests include following current events, family road trips, visiting art museums, hearing live music, exploring New York neighborhoods and coffee.