Darleny Cepin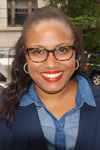 Associate Director (West Campus)
515 Lerner Hall
2920 Broadway, MC 4205
New York, NY 10027
dec23@columbia.edu
Phone: 212-854-7126
Fax Number: 212-854-6815
Darleny Cepin, M.A. is a dedicated educator with over 15 years of experience in higher education. Having earned an M.A. in Social Organizational Psychology at Columbia University, she will complete her doctoral studies in Adult Learning and Leadership at Teachers College, Columbia University in May 2015. Darleny is passionate about motivating, inspiring, and supporting students and colleagues to achieve their academic and personal goals. A forward-thinking and creative educator, her holistic approach is grounded in student learning and transformative leadership practice.
In addition to pursuing her graduate studies, Darleny earned certification in Emotional, Social and Cultural intelligence from Teachers College in 2006, incorporating into her practice advanced strategies in emotional intelligence, coaching across cultures, organizational acumen, and self-management. She has been repeatedly recognized for her dedication to educational excellence, including recent inductions into the National Residence Hall Honorary Chapter at Columbia University and Kappa Delta Pi Education Honor Society. Additional interests and experience include coaching, leadership development, program development, supervision, technology, diversity, and group dynamics. Bringing a positive outlook and flexibility to both her professional and personal spheres, Darleny also practices mindfulness and meditation.
Darleny oversees the West Campus Faculty In Residence Program and Special Interest Communities, transfer student programming and coordinates the Well Campus Series. Darleny is also the Advisor for NRHH Columbia's chapter.