Becky Curtin Ugolnik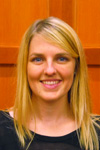 Advising Dean
Berick Center for Student Advising
403 Lerner Hall, MC 1201
2920 Broadway
New York, NY 10027
rdc2136@columbia.edu
Phone: 212-854-9196
Fax Number: 212-854-0042
Office Hours:

The Berick Center for Student Advising is open for appointments Monday-Friday, 9 a.m.-5 p.m.

Academic Year Walk-in Hours (when classes are in session):
Monday-Thursday, 3:00-4:30 p.m.
Specialty: Preprofessional Advising
Becky was born and raised in San Diego. She received her B.A., summa cum laude, from the University of Notre Dame, where she majored in the program of liberal studies, a "Great Books" program. She worked for several years in the action sports industry in Southern California before pursuing her Masters of Theological Studies from Harvard Divinity School. Becky joined the preprofessional advising team in 2011. She enjoys travel, baking, learning new things and musical theater.