Listed below are the ABP-supported projects that took place during the 2012-2013 academic year. 
Supported Spring Break Civic Engagement Projects
CU Students for Human Rights
Ile de Jean Charles, Louisiana
Brooke Burrows, Erasmia Gorla, Angelica Hoyos, Nicholas Lyon, Valerie Comenencia Ortiz, Nathan Proctor, Jourdan Sayers, Maria Velez; led by Camille Allamel
Students travelled to collaborate with the Tribal Council and work with displaced community members due to climate change and receding coastline. They conducted a needs-survey and held interviews with the community in order to compile a report, which can be used to help secure more land for the Chichimaxa Biloxi tribe.
GEQUA
Picalqui, Ecuador
led by Danielle Naghi
Gequa worked in Picalqui, Ecuador, with the Fundación Brethren y Unida to work with the indigenous communities on issues ranging from gender equality to labor rights. Ecuador is one of the world's largest producers of roses, and one project held involved exploring the alternatives for workers, such as organic farming, which have much better working conditions and less health impacts from pesticides. The group also be raised funds to support an irrigation project at the host organization which will support sustainable agriculture. 
Charles Drew Pre-Med Society
Brooklyn
led by Chinenyenwa Mpamango
Inspiring a Generation Alternative Spring Break Program has a mission to inspire high school students from disadvantaged backgrounds to look beyond high school and anticipate the future ahead.  The program took place in the School for Global Citizenship in Booklyn, New York. In this inner city high school, Columbia student volunteers spent the week having discussions on the causes of low performance in inner city high schools, what to look forward to in college, and the health issues that are increasingly effecting teens and adolescents. Each day had a different topic with the final day of the program including a trip to Columbia University. The high school students were given a tour and had the opportunity to here from a speaker, an admissions representative, and a student panel.
Caribbean Students Association
Barbados, West Indies
Karnisa Aya, Kachenta Descarte, Roshawn Johnson, Makeda Lewis, Roniquee Marksman, Natalie Paret, Daena Reynolds, Tatiana Witter; led by Kimberley Small
The Caribbean Students Association went to the island nation of Barbados to conduct their 2013 There is Hope Campaign. The project focused on relieving the disparity between primary school matriculation and actual proficiency in secondary school, and raising public awareness about mental health disorders in school-age children.
Habitat For Humanity
Lafayette, Louisiana
Áine Chalmers, Darializa Avila Chevalier, Benjie Frieling, Alex Hastings, Elliot Kwon, Alicia Morejon; led by Kim Lynch and Julia Peck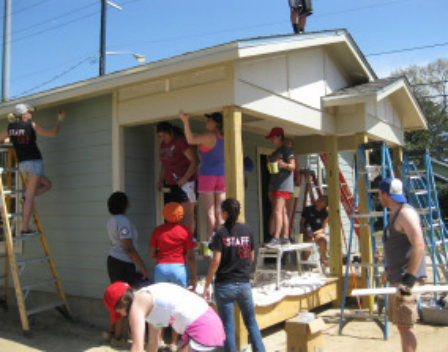 The team participated in the Habitat for Humanity Collegiate Challenge, a program for college Habitat chapters to spend their breaks working at Habitat sites across the country. They worked on the construction of 4 different houses in Lafayette by painting, caulking, putting up siding, and laying out the foundation for walls and floors alongside future homeowners and other volunteers from Chico State University and the Lafayette community. Meeting with local leaders and representatives allowed them to learn more about the housing situation in Lafayette and how providing affordable housing can help to revitalize neighborhoods and create more stable communities. To check out their project blog, go to http://columbiahfh.wordpress.com
QSN
Fort Worth, Texas
Bill Nguyen, Anna Sacks; led by Taylor Breen and Terranisha Hiley
The group traveled to Fort Worth, TX to do college preparatory workshops for low-income high school students. They held a series of four different workshops which were  financial aid/financial literacy, time management and organization/healthiness and well being, admissions and self marketing, and identity and social etiquette. This project was important because as fellow low-income students, they wanted to provide other low-income students with opportunities that they did not have. College preparatory workshops are important because these students are not given information about the college transitioning portion of freshmen year.
Supported Summer Break Civic Engagement Projects
Engineers Without Borders
Obodan, Ghana
Kofi Amansie-Boateng, Erin Bessette-Kirton, Christine Djan, Lucas Oliver, Robbie Queen, Leerang Yang; led by Mira Armstrong and Mike Escobar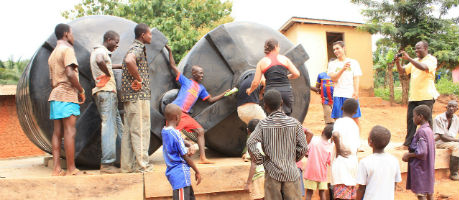 Engineers Without Borders' project aimed to address the water needs of the village by implementing a water distribution system for all of Obodan, Ghana. The project is a combination of both Direct Service and Engaged Scholarship, as they not only implemented a water system, but also worked with the community to do so, ensuring its sustainability. The project objective was to set up a basic infrastructure such that the village has access to potable, effortless water close to their homes.
Columbia Students for Southeast Asia Development and Service (SEADS Cambodia)
Phnom Penh and Siem Reap, Cambodia
Erin Chuah, Beatrice Francesco, Louisa Ying, Karen Zhou; led by Samantha Hing and Shin Woon
SEADS Cambodia investigated the social impact of NGOs and various social enterprise firms on the local community and studied issues such as "voluntourism" and orphanage business.
Columbia Child Rights
Siliguri, West Bengal, India
Bishoy Ameen, Nicole Delgadillo, Emery Jamerson, Camila Marcone, Huntly Mariano Morrison, Bryn Seltzer; led by Chloé Durkin and Meghna Mukherjee
Columbia Child Rights led a project to Siliguri in the Indian state of West Bengal to work with Matrisangha Janakalyan Ashram (MJA), focusing on activism, direct service, and engaged scholarship. They organized a volunteer system for the organization's free clinic, and created an assessment manual to provide MJA with details of their entire process of volunteer recruiting, training, workshop curriculums, and methods to continually update the program.
GlobeMed
Gulu, Uganda
Menaka Dhingra, Conner Fox, Rose Milando, Jessica Northridge; led by Diane Wang
GlobeMed sent its five members to Gulu, Uganda, to work with their partner organization, Gulu Women's Economic Development and Globalization (GWED-G). Financial Stewardship was a major part of the group's overall work, however while in Uganda, the project participants conducted evaluations for the projects led by GWED-G, focusing on HIV awareness and sensitization, capacity building of voluntary community health workers, promoting maternal and newborn health, and supporting health facilities through provision of equipment. For more information and to learn about their past and present projects, check out GlobeMed's Columbia Chapter website and their WordPress blog.
IND/Build-On
Malawi
Sarah Green, Maud Reavill, Claire Saint-Donat, Mimi Sam; led by Rivka Rappoport and Claire Wampler
BuildOn worked in Malawi to address issues of illiteracy by increasing the access to schools and education, focusing on communities who already understand the need for education yet lack the financial means to institute it. The group worked closely with the community throughout the construction of the school, promoting a sense of community ownership by donating the land and contributing labor.
Bangladesh Kapaeeng Foundation
Dhaka, Bangladesh
led by Mirabel Rouze, Crystal Ang Jia Xian, Karen Zhou
These students worked with the Kapaeeng Foundation in Dhaka, Bangladesh to focus on indigenous rights. The indigenous population has been displaced by ethnic Bengalis, and the groups aimed to help with the Kapaeeng Foundation's work in social media, editing English publications, and developing editing process and workshops to be used by the organization.