Thank you for your interest in the joining an ABP project! We encourage you to explore past projects supported by ABP and see the unique ideas that Columbia students have brought to fruition all across the globe!
Zuni Pueblo, Pine Hill, To'hajiilee, Isleta Pueblo, New Mexico, USA
Years Active: 2014-15, 2013-14
Project Leaders: Danielle Lucero (2014)
AlterNATIVE Education is the first peer-education and mentorship initiative aimed at bridging the gap between Native American high school students and Native College students (80% of AlterNATIVE Facilitators were Native in its pilot year). Throughout a week-long curriculum, students engage with Native histories, governments, arts, and current events, all of which are topics rarely discussed in the classroom. This project seeks to empower Native students as community members, individuals, and agents of change, especially by encouraging Native students to seriously consider higher education opportunities through long-term mentorship.
Bangladesh Kapaeeng Foundation
Dhaka, Bangladesh
Years Active: 2012-13
Project Leader: Mirabel Rouze (2013), Crystal Ang Jia Xian (2013), Karen Zhou (2013)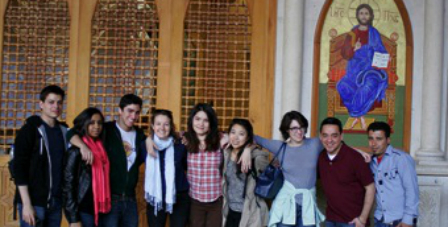 These students worked with the Kapaeeng Foundation in Dhaka, Bangladesh to focus on indigenous rights. The indigenous population has been displaced by ethnic Bengalis, and the groups aimed to help with the Kapaeeng Foundation's work in social media, editing English publications, and developing editing process and workshops to be used by the organization.
buildOn
Senegal
Years Active: 2013-14
Project Leaders: Sarah Green (2014), Ahana Maken (2014)
Columbia-Barnard's buildOn project was "Trek for Knowledge." The participants raised funds to help build a primary school in rural Senegal and served as cultural ambassadors who helped promote literacy in the country.
Dennery, St. Lucia (2014); Barbados, West Indies (2013); Mahaut, Dominica (2012)
Years Active: 2014-15, 2013-14, 2012-13, 2011-12
Project Leaders: Sashanni Rose (2014), Kachenta Descartes (2014), Kimberley Small (2013), Khadine Singh (2012)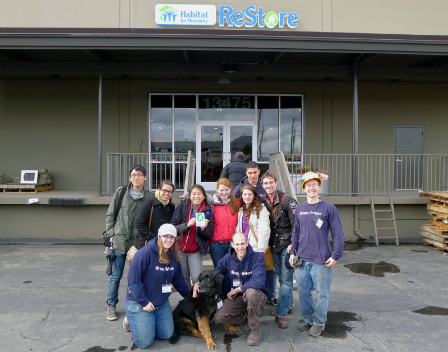 CSA began their work with communities in the Caribbean in 2010. CSA collaborated with Dominican educators and specialists to develop a curriculum that was implemented in primary schools throughout the island. Teams developed a larger consciousness and discussion about education in the region, and improved actual educational models. Since then, CSA has taught workshops at a primary school about identity, sustainability, skills for future success, and readiness for college. In 2013, CSA began its There is Hope Campaign, which focused on relieving the disparity between primary school matriculation and actual proficiency in secondary school. This campaign also raised public awareness about mental health disorders in school-age children. The self-esteem evoking curriculum encouraged a sense of personal engagement in the futures of the island's youth and was continued in the Bahamas during the 2014-15 academic year.
Charles Drew Pre-Med Society
Brooklyn, NY, USA
Years Active: 2012-13
Project Leader: Chinenyenwa Mpamango
Inspiring a Generation ABP had a mission to inspire high school students from disadvantaged backgrounds to look beyond high school and anticipate the future ahead. The program took place in the School for Global Citizenship in Booklyn, New York. In this inner city high school, Columbia student volunteers spent the week having discussions on the causes of low performance in inner city high schools, what to look forward to in college, and the health issues that are increasingly effecting teens and adolescents. Each day had a different topic with the final day of the program including a trip to Columbia University. The high school students were given a tour and had the opportunity to here from a speaker, an admissions representative, and a student panel.
Columbia Child Rights
Siliguri, West Bengal, India
Years Active: 2012-13
Project Leader: Chloé Durkin (2013), Meghna Mukherjee (2013)
Columbia Child Rights led a project to Siliguri in the Indian state of West Bengal to work with Matrisangha Janakalyan Ashram (MJA), focusing on activism, direct service, and engaged scholarship. They organized a volunteer system for the organization's free clinic, and created an assessment manual to provide MJA with details of their entire process of volunteer recruiting, training, workshop curriculums, and methods to continually update the program.
Columbia Students for Southeast Asia Development and Service (SEADS Cambodia)
Phnom Penh and Siem Reap, Cambodia
Years Active: 2012-13
Project Leaders: Samantha Hing (2013), Shin Woon (2013)
SEADS Cambodia investigated the social impact of NGOs and various social enterprise firms on the local community and studied issues such as "voluntourism" and orphanage business.
CU Students for Human Rights
Ile de Jean Charles, Louisiana
Years Active: 2012-13
Project Leader: Camille Allamel (2013)
Students travelled to collaborate with the Tribal Council and work with displaced community members due to climate change and receding coastline. They conducted a needs-survey and held interviews with the community in order to compile a report, which can be used to help secure more land for the Chichimaxa Biloxi tribe.
DAY specializes in working with international groups to implement programs on the ground in the Zaatari Refugee Camp. They organize many different types of programs including school rehabilitation and children's events.
Obodan, Ghana
Years: 2014-15, 2013-14
Project Leader: Michael Escobar (2013, 2014), Mira Armstrong (2013)
EWB has worked with Obodan since 2005 developing sanitation and water access solutions. In 2014, the project returned to monitor the water storage and distribution systems put in place during the Summer 2013 visit. EWB assessed the sustainability of their project and gauged possibilities for another project to be initiated in Obodan. Learn more about their project on the EWB Obodan website. Most recently, the projects have provided continual support to communities building out their local infrastructures, specifically in terms of water issues and sustainability.
Ait Bayoud, Morocco
Years Active: 2013-14, 2011-12
Project Leader: Tim Weber (2014), Andrew Sumner (2014), Kristina Lee (2012)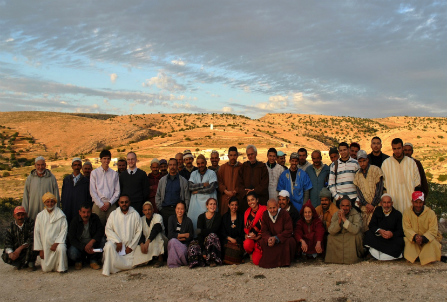 EWB educated local residents about sanitation practices as they implemented an efficient water distribution system in the small neighborhood of Izgaouaren. The system will provide a reliable and sustainable source of water to the community, which is 350 feet above the nearby river. EWB worked with various local authorities and organizations to design the distribution system. EWB also built a footbridge for the local community to aid in accessibility to Ait Bayoud from outside communities.
Soroti, Uganda
Years Active: 2014
Project Leader: Will Van Noppen (2014), Halvard Lange (2014)
EWB's Uganda program implemented a Multi-function Energy Platform (MFP) pilot program. Since 2009, EWB has worked with Pilgrim, a Ugandan NGO, to set up eight MFPs in eight different communities in the Soroti district. It continues the relationship with this latest implementation. MFPs are mechanized farming approaches to increase community access to affordable energy and thus increase food security.
During academic year 2014-15, Ethio-Eritrean Student Association will work with CTP, an educational program in Addis Ababa, to aid Ethiopian students with the U.S. college admission process and SAT exam preparation.
Gender Equality: Ecuador (GEQUA)
Picalqui, Ecuador
Years Active: 2013-14, 2012-13
Project Leaders: Bianca Capone (2014), Reyna Pacheco (2014), Danielle Naghi (2013)
Gequa worked in Picalqui, Ecuador, with the Fundación Brethren y Unida to learn from the indigenous communities on issues ranging from gender equality to labor rights. Ecuador is one of the world's largest producers of roses, and one project held involved exploring the alternatives for workers, such as organic farming, which have much better working conditions and less health impacts from pesticides. The group also raised funds to support an irrigation project at the host organization which will support sustainable agriculture. Service is an exchange and GEQUA hoped to not only give to the community of Picalqui but to take what they learned and bring it back to the Columbia community. The team strived to impart a greater awareness of computer literacy in the Picalqui community. In so doing, they grew as individuals and as a team, shared their experience in Ecuador, and redefined their role across international borders.
Quzhou, Zhejiang, China; Lu An, Anhui, China; Zi Gong, Sichuan, China
Years Active: 2014-15, 2013-14
Project Leader: Christine Wang (2014)
Global Youth Mentorship Initiative (GYMI) seeks to provide youth-led mentorship to enhance and supplement traditional education curricula with unconventional educational sessions relating to technology and the arts. The organization selected three schools in rural areas of China where the regimented curriculum leaves little opportunity for extracurricular pursuits. The members provided mentorship to the students in hopes of addressing the educational gap between schools with many resources and those with fewer. GYMI aims to implement an online mentoring system to continue their influence after the project ends. Learn more about the mission on the GYMI website.
Gulu, Uganda
Years Active: 2014-15, 2013-14, 2012-13
Project Leaders: Diane Wang (2014), Mariko Kanai (2014), Diane Wang (2013)
GlobeMed continually assesses service previously implemented. In the first year, GlobeMed worked with its partner organization, Gulu Women's Economic Development and Globalization (GWED-G). the project participants conducted evaluations for the projects led by GWED-G, focusing on HIV awareness and sensitization, capacity building of voluntary community health workers, promoting maternal and newborn health, and supporting health facilities through provision of equipment. GlobeMed 2014-15 ABP project worked with Gulu Women's Economic Development and Globalization, a non-governmental organization promoting human rights in Northern Uganda, to work to combat the stigmatization of HIV/AIDS in the local community. For more information and to learn about their past projects, check out GlobeMed's Columbia Chapter website and their WordPress blog.
Lafayette, Louisiana
Years Active: 2014-15, 2013-14, 2012-13
Project Leaders: Julia Peck (2013, 2014), Patrick Taylor (2014), Kim Lynch (2013)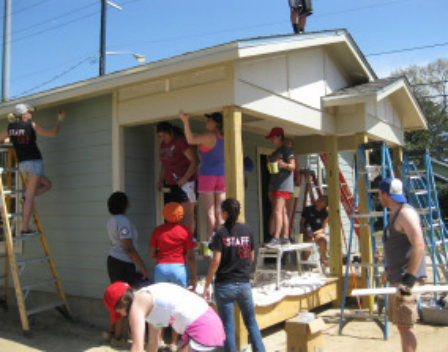 Habitat For Humanity's projects involve working with community members in Lafayette, Louisiana to continue their rebuilding efforts, nearly a decade after hurricane Katrina devastated the area. In 2014, the team participated in the HFH Collegiate Challenge, a program for college Habitat chapters to spend their breaks working at sites across the country. They worked on the construction of 4 different houses in Lafayette by painting, caulking, putting up siding, and laying out the foundation for walls and floors alongside future homeowners and other volunteers from Chico State University and the Lafayette community. Meeting with local leaders and representatives allowed them to learn more about the housing situation in Lafayette and how providing affordable housing can help to revitalize neighborhoods and create more stable communities. In 2015, the Columbia chapter partnered with Lafayette HFH to expand their volunteer base and build houses from scratch during their week in Louisiana. Over the course of the week, the HFH team built three houses with three families who had never owned their own homes before. They also worked with the Lafayette chapter to lay the groundwork for expanding their volunteer network. In the future, they will also hold a panel on affordable housing and sustainability.
Portland, Oregon
Years Active: 2011-12
Project Leader: Michael May (2012), Carmen Ren (2012)
CU's HFH worked with Victoria Cottages and helped complete the construction of a home. The participants raised awareness in New York about poverty issues in Oregon and introduced HFH NYC's 10-Year Plan to End Homelessness financial fluency plan in Portland.
HANDS
Cairo, Egypt
Years Active: 2011-12
Project Leader: Christine Choi (2012)
The team assisted the Sisters of Charity orphanage with operations and also engaged discussion about Egyptian political and social change--particularly women's rights and freedom of speech--with activists and college students.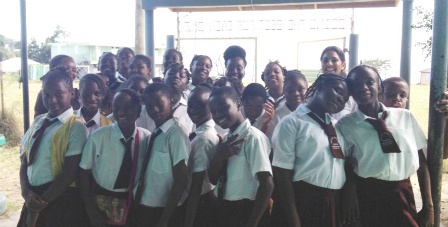 IND/Build-On
Malawi
Years Active: 2012-13
Project Leader: Rivka Rappoport (2013), Claire Wampler (2013)
BuildOn worked in Malawi to address issues of illiteracy by increasing the access to schools and education, focusing on communities who already understood the need for education yet lacked the financial means to institute it. The group worked closely with the community throughout the construction of the school, promoting a sense of community ownership by donating the land and contributing labor.
Plateau Engage
Tibetan villages in India
Years Active: 2011-12
Project Leaders: Tsechu Dolma (2012), David Ma (2012)
The team initiated a sustainable waste management system in rural Tibetan communities. With the Tibetan Village Project, they led workshops about waste management and sustainability initiatives for the localvillagers.
QSN
Fort Worth, Texas
Years Active: 2012-13
Project Leader: Taylor Breen (2013) and Terranisha Hiley (2013)
The group traveled to Fort Worth, TX to do college preparatory workshops for low-income high school students. They held a series of four different workshops: financial aid/financial literacy, time management and organization/healthiness and well being, admissions and self marketing, and identity and social etiquette. This project was important because as fellow low-income students, they wanted to provide other low-income students with opportunities that they did not have. College preparatory workshops are important because these students are not given information about the college transitioning portion of freshmen year.
Southern Appalachian Mountain Stewards (SAMS)
Appalachia, VirginiaMarch 15th - 23rd, 2014
Project Leaders: Deborah Secular, Daniel Bergerson
The Barnard-Columbia Mountain Stewards traveled to rural Southern Virginia to perform water quality testing in watersheds affected by pollution from coal mining operations such as mountaintop removal. The data collected helped ongoing citizen efforts to use existing federal water quality laws to prevent the permitting of new mines. They met members of the community in Appalachia, Virginia and learned how their lives have been affected by the mining operations that surround their community. The team collected a significant amount of data that contributed to the regulation of mountain top removal mining in Appalachia. Learn more on Barnard-Columbia SAMS' website.
Shanghai & Beijing, China
Years Active: 2014-15, 2013-14
Project Leaders: Shen Qiu (2014), Qiuyun Tan (2014)
Symposium is a non-profit educational project that is dedicated to bringing humanities seminars to high school and college students in East Asia. The 32 participants worked with the Columbia Global Center to plan Western literature seminars--modeled after Columbia's Literature Humanities course--for Chinese high school and college students. The education system in China is very rigid and science-focused, and Symposium hopes to expose the students to classes structured around discussion and critical thinking. Their findings were presented in a panel co-sponsored by Core Office, Weatherhead East Asian Institute, and Teachers College.
Unite for Sight
Accra, Ghana (2014); Obodan, Ghana (2012)
Years Active: 2013-14, 2011-12
Project Leaders: Alexandra Castillejos (2014), Deandrea Ellis (2014), Yang Li (2012)
Columbia's chapter of Unite for Sight worked with Ghanian ophthalmologists to provide quality eye care and sanitary services to impoverished areas of Accra. The team explored the health infrastructure of Ghana and aimed to begin the conversation of global health for Yale's annual Global Health and Innovation Conference next year.